As my purpose with this blog is to let you know not only the city but also the romans, I'll start to introduce you Vincenzo, goldsmith and painter.
Of course, where you see paint buckets on the floor, soaking brushes, easels and paintings of all sizes that's the painter's studio. Neither his or my clothing have been spared from his rushing Abstract Expressionism inspired work. Not even shoes! When creativity flows, he follows and goes to the studio. Clutter can sometimes reach such a perfectionist level there! And according to me, despite appearances and clichés about artists, it has nothing to do with art as he wants me to believe: it is just true clutter in which even he is absolutely unable to find what he has lost except after a few days of searching obstinately. And in those days you can see him astounded, almost in disbelief wandering around the studio with no intention of tidying up at all but committed only to lift things up to see if what he is looking for has hidden underneath.
As the goldsmith's work requires concentration on very small objects instead, if you meet him in the jewellery shop, then you will find him quite and calm in his sober black work-shirt with the logo of his business embroidered on the breast-pocket. Officially, the logo is a tribute to the helical lantern of the dome of the nearby church of Sant' Ivo a La Sapienza conceived by the genius of Francesco Borromini. Furthermore, the two of us met for the first time right under that dome. Even at his jewellery shop, you'll find him drawing as he draws tirelessly with his beautiful pens of different sizes (and prices!). Very often his drawings become rings, earrings and pendants that I admire with my nose pressed against the glass.
My female friends think I'm lucky to be a goldsmith's wife as I can put on the jewellery I want. Indeed, I am fortunate to be his wife but certainly not due to his work: the jewels in the showcases may not be touched. I may just look at them, like in museums.
Vincenzo is one of those (according to me, lucky) people who knew from an early age what they would have become: he wanted to be an artist and started when he was thirteen to make his dream come true. Every day after school, instead of going home, he went to his Maestro who had his jewellery shop in via del Lavatore, near the Trevi fountain.
You have to imagine at that time, in the late 1980s, the Trevi fountain was just one of the many neighborhoods in Rome. I remember sometime I met with my friends there and sat on the step of the square chatting for hours with the sound of the water in the background. Yes! There were tourists, but not many. Everyone knew each other. The Maestro took Vincenzo for lunch in via del Mortaro, next to the Teatro dei Servi, in his father's Trattoria (informal restaurant), which was closed to the public at lunchtime and opened only for the two of them.
At the age of twenty, he was able to open his first shop. That's why when you buy an artisanal product not only you are buying a unique handmade object but also a story, early mornings, years of hard work, perseverance, experience, dreams and expertise, traditions and competences handed down from father to son or as in Vincenzo's case, from Maestro to pupil.
Just before the quarantine, he was busy with a new line of jewels inspired by the works of Gustav Klimt and Amedeo Modigliani: the gold and enamel pendants below.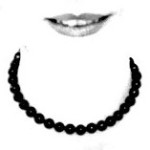 Federica